Bright Minds Holistic Approach to  teaching and learning is about helping children learn the purpose of why something needs to be learnt, what is that they are learning, how it is going to be used in real life, how it is connected to the learner 's life. The purpose of a holistic education is to prepare students to meet the challenges of living as well as of academics. At BMIS, the child's mind, body and spirit is enhanced. We provide an ideal environment for promoting good emotional wellbeing. The social and emotional skills, knowledge and behaviors that young people learn in the classroom can help them build resilience and set the pattern for how they will manage their mental health throughout their lives.
The PYP curriculum model is built from a framework of transdisciplinary themes that help teachers and students to explore and acquire essential knowledge and skills and to take socially responsible action.The IB PYP strives to demonstrate this through learning, giving understanding to a real-life world and through the learner profile: Inquirers, Knowledgeable, Thinkers, Communicators, Principled, Open Minded, Caring, Risk-Takers, Balanced and Reflective.
What is distinctive about BMIS is the eagerness to design the curriculum to suit the student. We believe in the importance of experiential learning according to individual needs, different learning methods and students' personality traits. We rely on inquiry as a basic teaching and learning methodology, where students try to find solutions to life's challenges by exploring questions such as: "How can we design an efficient transportation system that suits our terrain?", "How do we design a healthy diet that works for us" or "What would you change to get On a better ecosystem? How can it be applied and generalized to all segments of society?"; Through it, the student understands that finding solutions to life's challenges is an effort that requires cooperation, innovation, and a different of points of view.
After planning our curriculum, we seek to review these curricula and write feedback and benefit from it in order to better meet the needs of students. Assessments are conducted on an ongoing basis for each age group, including initial placement, pre-formative, and summative assessments of knowledge.
BMIS promotes student wellbeing in all its learning experiences by providing an environment and curriculum that supports students to develop knowledge, understanding and skills to manage their own health and wellbeing. Mindfulness  is one of the wellbeing programs that our children practice using different activities. Mindfulness is taking notice of how your body feels and what you see, smell and taste. When you notice what is happening around you, you focus more deeply, and that attention to your own senses will help you improve in diverse areas of your life. Mindfulness can add to the quality of our lives in numerous ways, from nurturing a sense of inner peace to improving the quality of a workout, from enhancing self-confidence to facilitating deeper and more meaningful relationships with others.
BMIS has aligned the IB scope and Sequence to the Common Core Standards and other international standards  to set a clear shared goal and expectations for the knowledge and skills students need in each grade level. The high international standards with its inquiry-based pedagogy, chosen by the school, define what all students are expected to know and be able to do; not how teachers should teach the PYP.  It provides an effective framework for teaching and learning. The curriculum framework of the PYP supports the implementation of the standards. Just as the standards build upon prior experience and knowledge, the PYP scope and sequence also builds from one phase to the more advanced phase.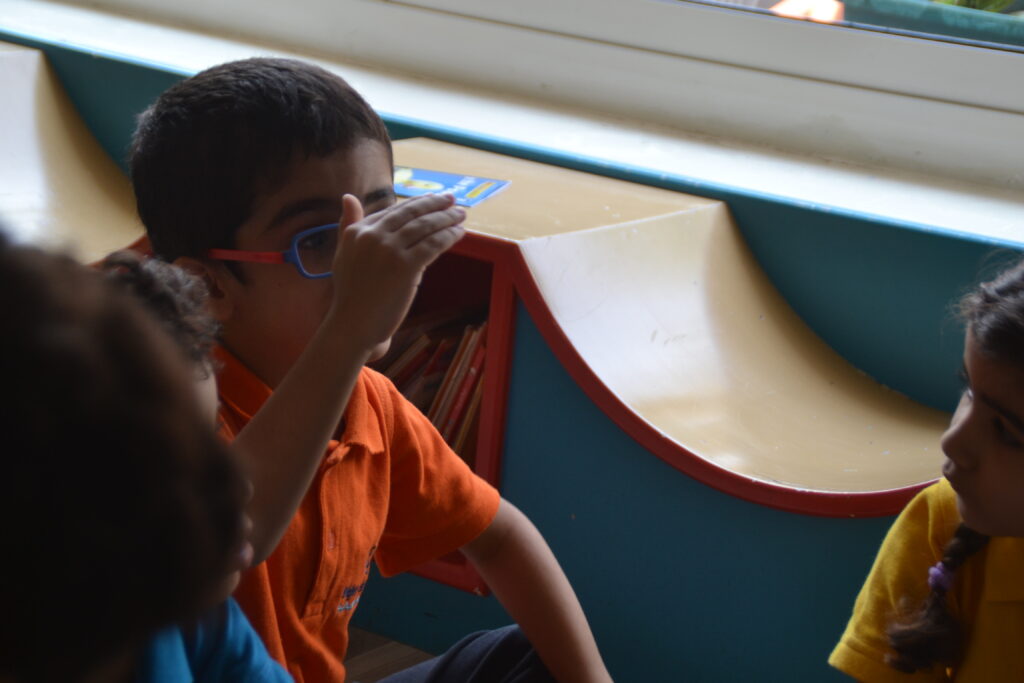 The BMIS Islamic Studies curriculum is aligned with the objectives of the Saudi Ministry of Education and the unit of inquiry followed by the school with the goal of connecting and deepening the children's knowledge.  Our Islamic Studies curriculum introduces students to the essentials of their faith. Our Islamic curriculum is designed to enable both, Islamic as well as academic learning in students while providing necessary social skills. Moreover, the Islamic lessons are integrated with our academic studies. Children recite and memorize the Holy Quran on a daily basis, learn the Hadith and are exposed to the stories of our Prophet (PBUH) and Sahaba through numerous activities.
The BMIS holistic approach sees the child as a whole. The Personal, Social and Physical Education (PSPE)  plays an important role in the child's health and wellbeing.  Physical fitness improves gross motor skills and fine motor skills development. It provides regular, healthy physical activity, teaches self-discipline and facilitates development of student responsibility for health and fitness. Physical education is the most powerful 'medicine' for present and future health issues - for the body, mind and spirit.  Our children are exposed to and coached in different kinds of sports.
Every learner benefits from having access to different languages, and, through that access, to different cultures and perspectives. Acquisition of more than one language enriches personal development and helps facilitate international-mindedness. BMIS children are bilingual children making it easier for them to be exposed to a third language, the French language.   Our children are introduced to the French language twice a week according to their grade levels.
At Bright Minds International School, we seek to keep pace with the rapid information age by activating the use of technology with all its tools with the students and the team, as it has become essential in the process of school educational interaction, through the use of interactive smart digital blackboards and the use of computers and tablets during class time. Through this technology we apply many skills that go beyond their familiarity with the usual parts of hardware and software to apply their knowledge practically during their learning of the materials and enhance the skills of searching and producing information, and the effective use of design platforms such as Canva, Storyboard and Wordwall.
Our interest in the psychological well-being of students extends to promoting digital citizenship and safety on the Internet, through which children learn the spirit of responsibility while using technology and media and contribute positively and wisely to the digital society.